Home inspection in Vista CA drives up the value of your home and help you spot potential problems before they become costly. All Pro Property Inspections offers comprehensive home inspection to buyers and sellers looking to ensure that their investments are sound.
What can go wrong with my home in San Diego?
San Diego appears like the perfect place to live with near oceanfront access and some of the best weather found anywhere in the country. However, there are hidden costs of living in our city.
Being near the Pacific Ocean means dealing with higher levels of salt in the air which generally creates additional expense. Older homes on average also present hurdles as roofs, siding, and even appliances have an expiration date.
What are some of the most common problems facing homes in Vista CA?
As your dream home ages, it starts to weather. Some of the most common problems we find include:
Poor drainage
Poorly sealed windows and doors
Faulty wiring
Roof damage and leaks
Outdated and unsafe heating and cooling systems
Poor maintenance
Plumbing Issues
Inadequate ventilation
Environmental hazards
Each issue lowers the value of your home and should be dealt with before selling. Buyers often place stipulations on contracts adding a significant expense to your sale.
What is minor structural damage?
In addition to the common problems, we often see small issues with the properties we inspect. Minor damage may seem inconsequential but costs homeowners up to $45000 or more in home value.
Repairing leaky roofs, water damage, and creaky floor joints is much less expensive than allow issues to compound. You might expect to spend $4286 to repair your foundation and as little as $500 for many minor repairs.
Do I need to have a home inspection before I sell?
Before you list, you should obtain a home inspection or multiple if the inspector finds an issue. It is better to spot an issue on your own than to let sellers find a fault.
Repairing problems brings your home value within the range you expect. Allowing an issue to persist for years or even days may lead to severe and irreparable structural problems. We can help you with regular inspections.
Home inspections for home buyers
In a buyer beware world, you need a trustworthy inspection service. As a certified master inspector, All Pro property inspections offers you a comprehensive overview of your desired property.
Most sellers allow you to inspect their homes before making an offer. This gives you the change to spot needed repairs, request work, and adjust your offer with full knowledge of your new home.
Home inspection in Vista CA
A home inspector performs a vital service during your home search. We grant more than peace of mind as any problem we find also saves you money.
For as little as $455 for a 200 square foot home and .27 cents for homes over 70001 square feet, we grant you the knowledge you need to obtain the best value from your best asset. Schedule an inspection today through our website.
Home Inspection Vista Ca
We welcome your comments!
Family owned and operated
All Pro Property Inspections is a family-owned company specializing in residential property inspections. We put forth our best effort for every job we take on because we're passionate about the work we do, and we want to help our customers succeed. Contact us today to book an inspection.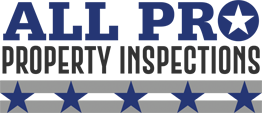 Prices start at just $455 for single-family homes up to 2,000 square feet in size and increase accordingly based on square footage. Evening and weekend appointments are available by request. Competitive prices on housecall property inspections - for first time home buyers, a buyer's inspection, real estate agents and commercial property.